(This post has been updated from the original November 2015 version to provide a better experience for you)
Want to learn how to make vodka gummy bears? You're in the right place! You wouldn't believe how ridiculously easy it is… With just 2 ingredients, a bowl and a bit of time – you and your party guests could be enjoying this sweet and naughty treat before you can say, "Where on Earth did they go?!" Do you love a good vodka recipe? Check out my easy homemade toffee vodka, it makes the perfect gift for the vodka lovers in your life!
This is definitely one for the grown ups! Combining two of my loves, sweets and booze, these vodka gummy bears pack a serious punch! Not for the faint hearted that's for sure. Did I mention that they are ridiculously simple to make and require only two ingredients??
If you're on the lookout for awesome party food recipes, you should totally check out my stylish tuxedo cheese and crackers and ever popular bacon halloumi bites. I guarantee your party guests will be begging you for more!
Do vodka gummy bears get you drunk?
One hundred percent, YES! Eat these responsibly and with caution. They are as highly alcoholic as the booze you soak them in.
How long to vodka gummy bears last?
They are ideally eaten as soon as they're ready but will last for 2 days covered and stored in the fridge. You will probably need to rinse them in water to separate them, as they'll likely stick together after a time.
What you need to know
Here's the good bit, the part where I share all my wisdom on making vodka gummy bears with you!
Ingredients
Here's everything you need to know about the ingredients
Gummy Bears – If you can, use Haribo Gold Bears. These are stable enough to soak up the booze and not disintegrate. Other brands have been known to go a bit mushy!
Vodka – At the very least I recommend using the best quality vodka you can afford. If the vodka tastes horrible, your vodka gummy bears will too! Flavoured spirits such as vanilla vodka and mango gin also work well. I've even made these with Southern Comfort and Baileys before with great results. (You will need to give Baileys gummy bears a good rinse before eating though as it tends to coagulate a bit.)
How to make vodka gummy bears: simplified
Place gummy bears in a bowl and pour over the vodka.
Soak for 7-8 hours.
Enjoy!
Recipe tips
Here are some tips I think you will find helpful. I've made these a few times and ran into some issues. Remember – I make the mistakes so YOU don't have to!
Use the best quality vodka you can afford. I have made these with both good and bad brands and it's very noticeable when you use a cheap one!
Haribo gold bears never fail me. If you can get hold of them, use this brand. Others have been known to disintegrate during the soaking process.
Easily change up the flavour by using flavoured vodka! I recommend using fruity flavours to compliment the gummy bears but vanilla also works very well.
These are slippery little suckers – serve with cocktail sticks so your guests don't struggle to pick them up!
If you want a more mild version, let soak for half the time and drain/rinse away the remaining vodka.
They may take longer to soak up all the booze depending on the weather. On hot days they tend to absorb quicker and colder days seem to take longer.
Vodka gummy bears sticking together? Rinse in water to separate them.
Why not experiment? Try using different spirits and see which one is your favourite. Gin, Southern Comfort and even Baileys work! (You will need to rinse the Baileys ones before eating though, to get rid of any congealed booze!)
How to store vodka gummy bears
Store your vodka gummy bears in a covered bowl in the fridge for up to 2 days. You may need to rinse them in water to separate them as they will likely have stuck together.
Vodka Gummy Bears – Step by Step Picture Recipe
(For a printer friendly version, see the recipe card at the end of this post)
Ingredients
Here is what you will need to make your very own Vodka Gummy Bears.
1 x 200g (7 oz) Bag of Gummy Bears
approx 150 – 200 ml (2/3 Cup – 3/4 + 1/8 Cup) Vodka *
*Use a good quality brand! You really can taste the difference. I used Wildcat vanilla flavoured vodka.
Essential equipment
Instructions
It really is very simple. Tip the bag of gummy bears (200g | 7 oz) into a bowl.
Pour over enough vodka to just cover the bears. It should be around 150-200 ml (2/3 Cup – 3/4 + 1/8 Cup).
Leave uncovered at room temperature to soak up the vodka for about 7-8 hours. Give them a stir occasionally as they can start to stick together.
The bears should have pretty much soaked up all the booze by now. If not – give them a little stir and leave for a few more hours.
These beauties are best eaten straight away but, if you have to make them ahead of time, once they have absorbed all the alcohol, cover with cling film and store in the fridge for up to 2 days.
You will need to give them a careful stir before serving as they will likely have stuck together a little. You may find rinsing in a little water helps to separate them.
They will also be quite slippery so I recommend you serve these with cocktail sticks or small forks.
And there you have it, I told you it was easy! They come with a warning though, these are just as alcoholic as the vodka you put in them so, for want of a better phrase, don't eat them like sweets! Restrain yourself a little, these are honestly very strong and need to be eaten with caution and responsibility.
Does it work with other spirits?
Yes it does!! You can make all kinds of wonderful flavours…
Mango and lime gin worked very well when I tested it.
As did Southern Comfort!
Baileys did work well in the end but you need to perform an extra step. You'll notice that the alcohol coagulates around the gummy bears after it's been soaked.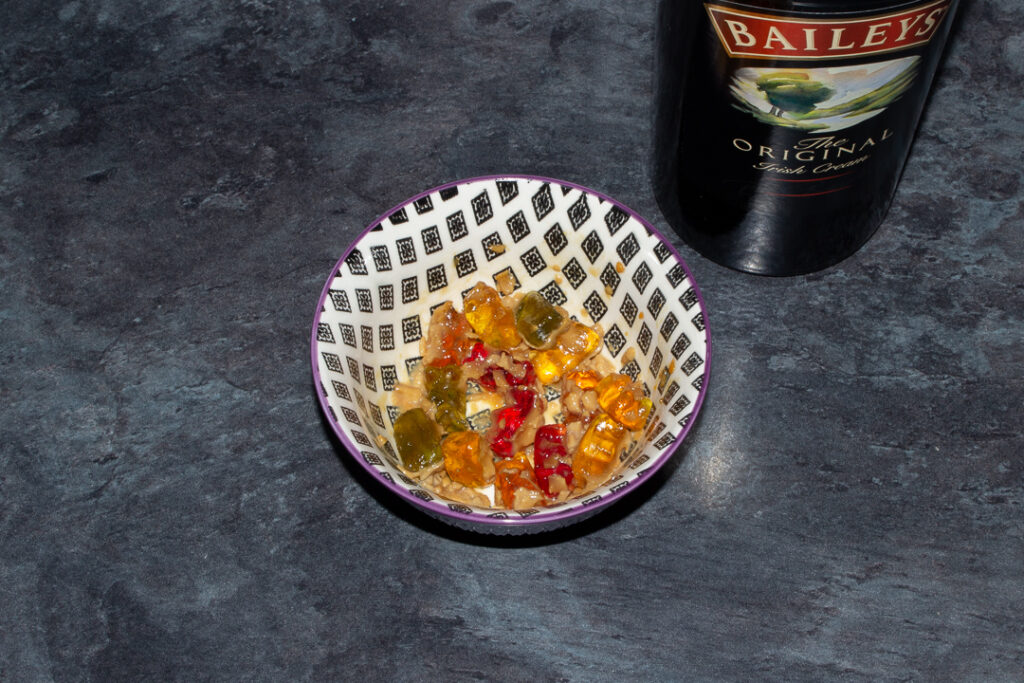 All you need to do is rinse them well in water until it all washes off. Et vous voila!
Look how much bigger they are! Super vodka powdered gummy bears!
Why don't you do some experiments of your own? Let me know what works and doesn't work for you.
Have you made this recipe?
Have you made these vodka gummy bears? I'd love to know if you have! Send me your pics, comments and questions on Facebook, Twitter and Instagram or email me at emma@kitchenmason.com.
Like baking to be as simple as possible?
You need the right equipment! Check out my favourite Products That Make Baking Easier! (Affiliate link)
Loved this recipe? Pin it!
How to Make Vodka Gummy Bears - Printable Recipe
Total Time:
7 hours
2 minutes
With just 2 ingredients and a little time, you can easily make these brilliant vodka gummy bears to enjoy at your next party!
Ingredients
200g (7 oz) Gummy Bears
150ml (2/3 Cup) Good Quality Vodka
Essential Equipment
Instructions
Tip the gummy bears into a bowl.
Pour in just enough vodka to cover the gummy bears.
Sit uncovered at room temperature for 7-8 hours until the gummy bears have fully absorbed the vodka.# Stir every now and then as they can stick together. These are best served immediately. If this is not possible, cover with cling film and store in the fridge for up to 48 hours. You may need to rinse them to separate as they can stick.
Notes
*Use a good quality brand! You really can taste the difference. I used Wildcat vanilla flavoured vodka.
#Soaking may take longer if it's a colder day and less time if it's a warm day.
See the main post for a more detailed, step by step picture recipe.
Be sure to read the 'What you need to know' section (especially the 'Recipe tips' part!) for lots of helpful information before you begin making this recipe.
Recommended Products
As an Amazon Associate and member of other affiliate programs, I earn from qualifying purchases at no extra cost to you.
Nutrition Information:
Yield:

6
Serving Size:

1
Amount Per Serving:
Calories:

187
Total Fat:

0g
Saturated Fat:

0g
Trans Fat:

0g
Unsaturated Fat:

0g
Cholesterol:

0mg
Sodium:

15mg
Carbohydrates:

33g
Fiber:

0g
Sugar:

20g
Protein:

0g
Nutritional information on kitchenmason.com should only be used as a general guideline, I am not a certified nutritionist. Please always check labels for allergens where applicable.