(This post has been updated from the original June 2015 version to provide a better experience for you)
Need a lightning speed midweek meal? A delicious dish that's not going to break the bank? This comforting soured cream pasta recipe is exactly what you need! Made in just 15 minutes, this humble pasta dish with soured cream and parmesan cheese is easy to make and utterly delicious. Sound good? Read on for the full recipe and lots of helpful tips.
Scrumptious soured cream pasta
I've always loved pasta. It's so quick, convenient and wholesome! It works well as both a side and a main dish. And especially in midweek meals! There are lots of varieties and you can flavour it in the most creative and delicious ways.
From stove top macaroni cheese to oven baked feta tomato pasta, we just can't get enough of the stuff can we?!
As with most sour cream recipes, you do need to be careful when heating it. If you bring it to the boil, it's likely to curdle. This does not make for a good soured cream pasta sauce. In fact, it's truly awful! (Speaking from experience.) However, if you follow my tips throughout, you'll see that this is easily avoidable.
In this soured cream pasta recipe, we team together tangy soured cream with warming, smokey spices and salty parmesan cheese. When seasoned to perfection, it creates a well-rounded delicious dinner. Just like my naan bread pizza recipe, it's all made in a flash! Just 15 minutes to be exact.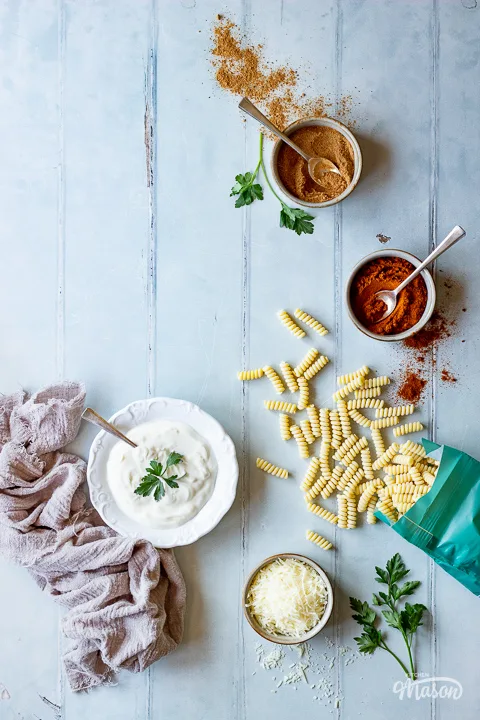 Can you cook soured cream?
Yes, you can cook soured cream. But you need to be careful. As it has a lower fat content than alternatives like cream and crème fraîche, it's less adaptable when used in a sauce. This means that if you boil sour cream or alter it's temperature too quickly, it will curdle.
Adding soured cream at the end works well. Alternatively, taking care to heat it gently and not boil it, should prevent curdling.
Can I use soured cream instead of heavy cream in pasta?
This depends entirely on the recipe. Soured cream has a low fat content which means it curdles easily.
If the recipe requires you to boil your pasta sauce, I don't recommend substituting soured cream. If you can add the soured cream at the end or you can heat it very gently (but not boil it), then yes, you can substitute it.
Take note that this will hugely affect the flavour though. Soured cream is very tangy, whereas double/heavy cream is rich and creamy.
Is soured cream unhealthy?
Soured cream's low fat content makes it a healthy substitute in place of rich and calorific creams.
Do remember to follow an 'all things in moderation' approach though. Too much of any one thing can make it bad. No matter how healthy!
Ingredients and substitutions
Confused about what ingredients to buy? Not sure about a substitution? Here's what you need to know…
Pasta – You can literally use ANY pasta you like in this recipe! I've used penne, spirali and fusilli. All have worked brilliantly. You could even use farfalle (bows), shells, spaghetti or linguine.
Butter – As this forms the base of your sauce, it will also add a little flavour too. For best results, use a good quality butter if you can afford it. If you're a bit strapped for cash but still want great flavour, try substituting for 2 tbsp olive oil instead.
Soured Cream – In my experience, soured cream is soured cream. Any brand will work and they all seem to have a similar flavour. You just need to make sure you follow the rules for heating it so it doesn't curdle.
Paprika – I have (surprisingly) found some really nice paprika in TK Maxx for a very reasonable price. Supermarket brands are ok though if you don't have time to make an extra trip.
Nutmeg – You can usually buy these whole and grate them fresh. (I believe Schwarzkopf have this in most supermarkets.) Which gives an amazing flavour! You can use the pre-ground versions, but they tend not to hold their flavour for anywhere near as long.
Parmesan – Parmesan keeps well for a long time when stored properly in the fridge. This means buying a nice one can be more cost effective, as you can use it in plenty of other dishes too. Do remember that parmesan isn't vegetarian though. So buy a vegetarian hard cheese alternative for those who require it.
Salt & Pepper – A good sea salt and freshly ground black pepper are my go to. If you can't afford them though, don't worry. Any salt and pepper is better than none at all! Just remember to add them gradually and keep tasting. You can always add more, but you can't take it out.
Recipe tips and troubleshooting
Here are tips you'll find helpful when making this recipe.
Use any pasta you like! This recipe is great for getting rid of all those little bits you have left in the bottom of packets. Who doesn't love saving money eh?!
Salt your pasta water generously! The Italians say that pasta water should taste of the sea. If it doesn't, it's under seasoned.
Do NOT boil your sauce once the soured cream has been added. It will curdle and create a texture that is highly unappetising.
Make sure you stir your sauce continuously, so no parts of the soured cream heat too quickly or get too hot. This will help prevent curdling.
Once it's cooled slightly, add a little pasta water to the sauce. I do this with all my pasta sauces as it helps to season it, emulsify it and give it a lovely shine.
It's difficult to bring a curdled sauce back. But if yours does curdle, try taking it off the heat and stirring vigorously. Your soured cream is either too hot or been heated too quickly.
Time management
This recipe really is a speedy one. It's perfect for those midweek nights where you are rushed off your feet, and only have limited time to get a meal on the table.
From start to finish, this takes only about 15 minutes. And yes, that includes boiling the kettle. You are restricted only by how long it takes for your pasta to cook.
Need this ready even sooner than that? Buy quick cook pasta or fresh pasta. These varieties only tend to take around 3-4 minutes to cook. The sauce only takes around 5 minutes to make. And you can do that while the pasta is cooking. Now that is a lightning speed meal isn't it?!
If you like this recipe…
…you might also like:
Soured Cream Pasta – Step by Step Picture Recipe
(For a printer friendly version, see the recipe card at the end of this post)
Ingredients
Here is what you will need to serve 2
200g (7 oz) Dried Pasta
25g (1/8 Cup) Butter
150ml (2/3 Cup) Soured Cream
1.5 tsp Smoked Paprika
Pinch of Freshly Grated Nutmeg
Salt and Pepper
Freshly Grated Parmesan, to serve *
Essential equipment
Large Saucepan
Small Saucepan
Wooden Spoon
*Use a vegetarian hard cheese instead of parmesan for a vegetarian version
Instructions
In a large saucepan filled with salted boiling water, cook the dried pasta (200g | 7 oz) according to the packet instructions.
Meanwhile, let's make the sauce. Over a low heat, melt the butter (25g | 1/8 Cup) in a small saucepan.
Then add the soured cream (150ml | 2/3 Cup) and stir continuously, until it's blended with the melted butter.
Make sure you do not increase the heat (keep it on low) and stir continuously from this point. Or your sauce may curdle.
Now add in the paprika (1.5 tsp), nutmeg (pinch) and a generous helping of salt and pepper. Stir continuously for a minute or so, until everything has blended together.
Finally, drain your pasta, but add a little of that pasta water into your sauce and stir through.
Then pour your sauce over the cooked pasta and mix through.
Divide it between bowls and serve topped with a very generous helping of freshly grated parmesan. Don't skip this, it really adds to the flavour!
How to enhance soured cream pasta
Pasta dishes are often a great way of getting rid of leftovers. You can easily add extra ingredients to take it to the next level too! Here's a few examples of what you can add to soured cream pasta for tasty variations…
Leftover cooked chicken
Roast vegetables
Meatballs (or vegetarian 'meatballs')
Sliced sun-dried tomatoes
Homemade croutons
Olives
Caramelised onion
Loved this recipe? Pin it!
Soured Cream Pasta - Printable Recipe
Need a lightning speed midweek meal? Made in just 15 minutes, this comforting soured cream pasta recipe is easy to make and OH SO YUMMY!
Ingredients
200g (7 oz) Dried Pasta
25g (1/8 Cup) Butter
150ml (2/3 Cup) Soured Cream
1.5 tsp Smoked Paprika
Pinch of Freshly Grated Nutmeg
Salt and Pepper
Freshly Grated Parmesan, to serve
Essential Equipment
Large Saucepan
Small Saucepan
Wooden Spoon
Instructions
Cook the pasta in a large pan of salted boiling water, according to the packet instructions.
Set a small saucepan over a low heat and add the butter. Stir until melted.
Add in the soured cream and stir thoroughly, until blended. Do not increase the heat and stir constantly from this point.
Stir through the paprika, grated nutmeg and a generous amount of salt and pepper.
Add a splash of the pasta water into your sauce, and stir through. Then drain your pasta and mix it with your sauce.
Serve immediately, topped with a lavish amount of grated parmesan cheese.
Notes
Take care not to boil your sauce or heat it too quickly, as it will curdle.
See the main post for a more detailed, step by step picture recipe.
Be sure to read the sections Ingredients and Substitutions, Recipe Tips and Troubleshooting and Time Management for lots of helpful information before you begin making this recipe. You can find them in the main body of this post.
Recommended Products
As an Amazon Associate and member of other affiliate programs, I earn from qualifying purchases at no extra cost to you.
Nutrition Information:
Yield:

2
Serving Size:

1
Amount Per Serving:
Calories:

521
Total Fat:

39g
Saturated Fat:

24g
Trans Fat:

1g
Unsaturated Fat:

12g
Cholesterol:

115mg
Sodium:

296mg
Carbohydrates:

34g
Fiber:

2g
Sugar:

3g
Protein:

9g
Nutritional information on kitchenmason.com should only be used as a general guideline, I am not a certified nutritionist. Please always check labels for allergens where applicable.
I want to see YOUR cooking!
Have you made this beautiful soured cream pasta recipe? I'd love to know if you have! Tag me in your pics on Facebook, Twitter and Instagram or email me at emma@kitchenmason.com.
Other tasty soured cream recipes