Ok, I've been hammering the sweet tooth a little hard recently. Figured I'd change it up a little bit this week with these scrummy Spicy Rosemary Thins! For me, rosemary always tastes so homely. That may sound a little strange but I feel it's almost like the herb equivalent of that winter 'sitting in front of the fire with a mug of soup' feeling. I don't know what it is but I just love it. Like a herby hug!
Anyway, they're blooming amazing and obviously you're gonna have a go at making them because they're super duper easy & quick!
Here is what you will need to make approx 25 – 30 Spicy Rosemary Thins.
1 tbsp Fresh Rosemary
1/4 tsp Chilli Flakes
100g Plain Flour
100 g Unsalted Butter, Room Temp
100g Extra Mature Cheddar Cheese, Finely Grated
1 tsp Baking Powder
1/2 tsp Salt
Simple & Spicy Rosemary Thins Recipe
Finely chop together the rosemary and chilli flakes.
In a food processor, add in the flour, butter, cheese, baking powder, salt & herbs.
Pulse until it just comes together to form a dough.
Tip the dough out onto a sheet of grease proof or baking paper and knead gently into a log shape.
Using the paper as an aid – roll it up into a round log then press the ends in to fill any gaps.
Place this in the freezer for 25 minutes to chill.
Meanwhile, preheat your oven to 180°C/Fan 160°C & line a baking tray with baking paper or a silicone baking sheet.
When the 25 mins are up – remove the dough from the freezer and slice discs approx 3-4mm thick.
Place the chilled discs onto the baking tray, slightly spaced apart to allow for spreading.
Put your Spicy Rosemary Thins into the centre of the preheated oven and bake for 10 – 12 mins or until just turning golden on the edges.
Leave them on the tray for a minute or two to harden then transfer to a wire rack to cool completely. (That should only take about 15 mins.)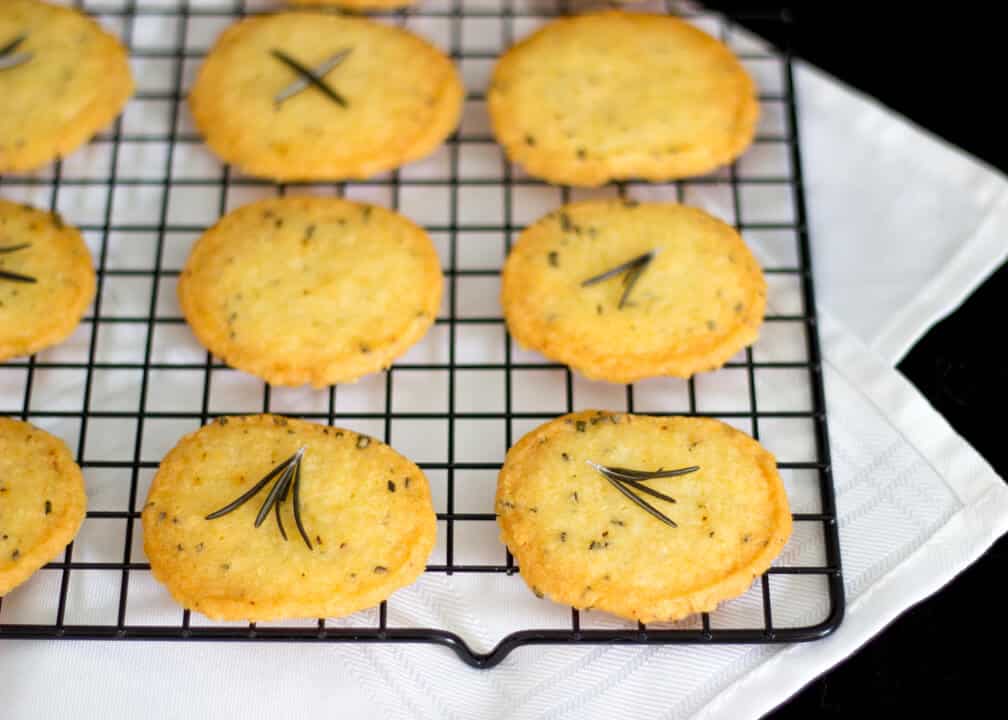 These Spicy Rosemary Thins would make great nibbles if you're having friends over for a few drinks, or the perfect accompaniment to any cheese board! Far better than most crackers you can buy in the shops that's for sure. And if you're worried about the heat of the chilli flakes, it's not hot I promise. It's more like a pleasant, gentle warmth in the back of the throat as an after taste. They're just… well, blinkin' gorgeous!
I hope you all enjoyed this weeks post my lovelies, until next week.
Miss KitchenMason